Item: DTIG1 (LCD digital tire inflator)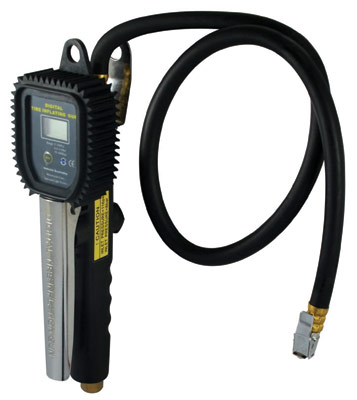 Features:
Tire Inflation/Deflation/Pressure Test
Unique, Comfortable Plastic Handle, Designed for Human Hand
Structure:
LCD Digital Display.
Auto shut off
Automatic Zero-return and Emendation
Adopts the pressure sensor with high accuracy, made by American Novasensor.
Keeps the veracity of tire inflation and driving safety
Using life lasts more than 50000 times
Technical Data:
Vehicle Available: Motorcycle, Cars, Vans and Light Trucks
Power Supply: 3 V (1.5 V x 2)
Working Temp.: -18Co ~ +40Co
Testing Range: 0.4-6.8 kg/cm2, 5-100 psi
Differentiation: 0.05 kg/cm2
Breaking Pressure: > 9.99 kg/cm2/ >150 psi
Accuracy: +-1% + 0.5 psi
Display Mode: 22 x 13 (mm) LCD Digital Display
Dimension: 280 x 74 x 71 (mm)
We supply 4 end chuck designs for all tire inflator gauges for option
Type A: Heavy duty zinc alloy dual foot chuck with hook
Type B: Heavy duty zinc alloy dual foot chuck
Type C: Long rubber hose with clip on chuck
Type D: Heavy duty extended length zinc alloy dual foot chuck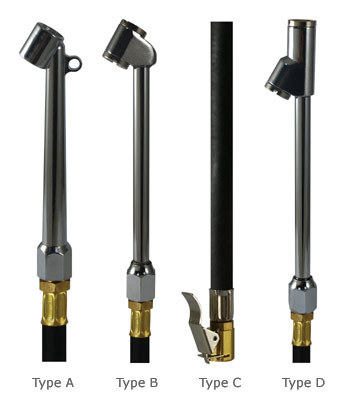 Download relative catalogues and other documents here.